Writing the perfect sales email is no mean feat, yet if you can master this art, it is a powerful way to warm up leads, inspire interest in your

brand

 and re-engage with regular customers.

In general, these emails will be going out to people who have already shown a direct interest in your business, as they have opted into your mailing list. This means you're already past the first hurdle; the next step is to make them glad they signed up (and hope they don't reach for the 'unsubscribe' button).

That might sound trite, but really every aspect of your marketing comes down to winning over leads, building positive relationships, and providing something more than just a hard sell. It's more competitive than ever out there in the world of online marketing, so it pays to get it right.

Recommended Reading: How To Form Writing Habits For Success [INFOGRAPHIC]
Define your goals by knowing your audience
Naturally, the first order of business is to figure out exactly who your audience is. This will enable you to structure your email marketing voice, message, and aesthetic in a manner that is most likely to resonate with your customers.
Which age groups do they fall into, and where are they located?

What are their primary interests, and do these overlap with your niche?

How do they browse content, and at what time of day?

Audience knowledge will help you decide what time of the day you should send your emails, whether your audience wants stunning lifestyle imagery or fact-heavy eblasts, and the style and tone of your emails.
Create some clear email marketing guidelines that resonate with your brand and content guidelines. Define things like the use of emojis, colloquialisms, and the frequency and length of your emails.
You can learn a lot from delving into the MailChimp Styleguide: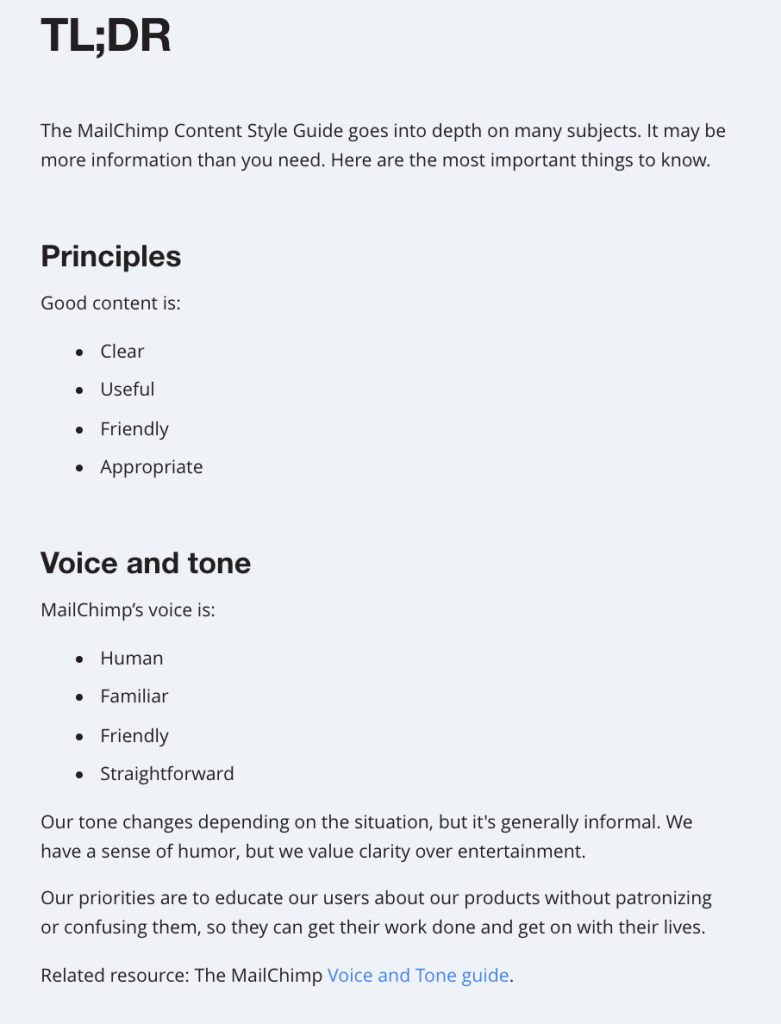 It's a masterclass in how to set out a clear tone of voice and content guidelines for your brand. You probably won't need something as comprehensive, but it wouldn't hurt to have something detailed that people can refer to.
Separating warm and cold leads 
Effective email marketing starts with segmentation. Not only does this allow you to divide your mailing list into more easily-targeted demographics, but it also enables you to separate the warm leads from the cold. This is incredibly valuable, as it allows you to zero in on those leads that may need an extra push or a different approach.
Remember, marketing is not just about what your product is or does; it's about structuring the message you wish to convey about your product in a way that appeals to and answers the queries of those to whom you are marketing.
You should try to create interest-oriented lists so that you can send people details about product launches and content that's 99% guaranteed to resonate with them. A big success factor for email click-throughs and conversions is relevancy, so spend time pruning and improving your data.
If you have a new blog, you will need to figure out how people are finding you, and where they signed up to your list. Did they click on a banner ad, engage with you on social media, or sign up after reading a blog post? Creating clear sign up pages and thank you pages on your blog will help you better track the reader journey in Google Analytics. For those early subscribers and adopters, make sure that they get the VIP treatment. Create lots of engaging content, and try to get them to interact with you across your different channels — this will help you build up a stronger user profile.
Established bloggers will be able to leverage deeper analytics and CRM data to create lists of people who've previously engaged with content downloads, webinars, competitions etc. The trick is to try to 'remember' when people last interacted with you, and why that was. Creating subsets within lists is a great way to remind people about seasonal or time-specific content or events — if they engaged last time, they are likely to do so again.
Creating a sales process via email
Let's delve deeper into how to structure a sales process via email. Unlike face to face or telephone contact, you won't be able to gauge the other person's mood or reactions, so you need to rely on clever copy, design, and sequencing instead.
Here is how you might go about promoting your consulting business via email:
Start the email sequence by asking questions and raising awareness of common problems people might be facing in their businesses (and lives). You want to embrace the concept of '

pattern interrupt

', so don't be afraid to get emotional.

You need to adopt a specific persona via email — sometimes being controversial and punchy works in your favor over email. Humor definitely shouldn't be overlooked as a sales and engagement strategy.

After a few initial groundwork emails, start dropping in references not only to your free content like blogs, but more premium options like webinars, mastermind groups, and consulting calls. Tie in the mention with a specific value proposition or offer, and avoid generic and generalized sales pitches.

Time-specific and email only offers are always winners, so these should feature heavily as part of your sales strategy. Constantly having offers and deep discounts can make you look suspicious, but you still need to bring them into the process. Have a big push for sign-ups about once a quarter so that you don't start to wear thin on people.
Another way  to look at your email sales sequence is to specifically react to the action the user took while signing up. If they joined your email list off the back of a free podcast you hosted on financial queries, then your email sequence should start there. Build a foundation with 3-5 topical emails to show that you're listening — you will be much more likely to get people to convert this way.
Constructing the perfect value proposition 
Once you know your audience, you will be well-equipped to present a brand persona that appeals to their tastes. Take the time to list the identifying features of your brand, the message you want to deliver, and the questions that your audience will want you to answer.
From here, you can develop a value proposition, that effectively sums up what your audience has to gain from buying your products, and becoming a member of your brand's community. After all, it's not just about exchanging products for money. Your customers want to know who you are, what your brand is all about, and why they should care.
This is where you should approach selling by email a little bit like building a community: try to bring customers closer to the people, supplier, and product stories that make you unique.
Striking the design balance between voice and visuals
The overall aesthetic of your sales emails is undeniably important. Not only does it need to reflect the style and personality of your brand, but it also has to be eye-catching and appealing enough to encourage recipients to read on. At the same time, you also need to ensure that your emails say enough to get your intended message across.
For example, it is widely acknowledged that including a video in your sales emails can significantly increase engagement. However, it is important to include at least a brief description of the video's content. This is not just so readers know what they are about to watch, but also for the benefit of those who may not want or be able to view this content.
Similarly, while quality photography and eye-catching graphics can definitely make your emails more interesting and memorable, it is all too easy to overdo it. Too many visual elements can make your email seem cluttered and difficult to follow, and may even cause it to load slowly, which is an instant deterrent for many readers. Be mindful of those busy mobile users who are likely to check emails on the go, and won't appreciate something that's not full-featured on mobile.
Open and close with style
Your email copy is ultimately the deciding factor when it comes to winning or losing a lead, and an overly wordy or salesy email is unlikely to have a positive impact.
In contrast, a visually appealing email that presents its points in a clear and informative fashion is far more likely to win over its reader.
Your subject line is critical.

Keep it brief and eye-catching

, and ensure that it tells the reader what to expect. Select the most interesting feature of your email, such as a discount, video, or new product line, and make that the focus of the headline.

Don't forget your CTA. There's a reason you're getting in touch with these leads, so while you should avoid coming across as too sales-focused, you should still give readers something to follow up on. Linking to your online store is the perfect way to ensure your sales emails are bringing the value you want from them. And you can increase this value by adding a CTA button to your online store.

Use a consistent voice. Ensure that your sales emails are composed in the same style and tone as your other marketing efforts. This helps to build recognition,

reinforce your brand's identity

, and increase trust in your business as a whole.

Plan your structure. Break your email down into sections, with clearly-worded headings, so readers can easily scan the content, and find what they're looking for.

Add a personal touch. Greet the reader by name, if possible, and don't be afraid to use a conversational tone. Remember, even though this is a sales email, it doesn't need to sound like one. Ideally, your reader should feel as if you are speaking to them directly, and that the content of the email is aimed specifically at them.
Finally, keep in mind that you don't need to pack all your great ideas into one email. Ensure each email has a specific focus, and stick to it. For example, your initial messages may be centered around thanking recipients for signing up, and making a good first impression.
Thereafter, you may move more towards driving sales directly, but it's vital that this comes only once a lead is sufficiently invested in your brand, or you risk losing them altogether.
Timing is everything
Remember we discussed knowing when your audience prefers to consume content? Well, that's just one important aspect of great timing within your email marketing campaign. However, an even more vital factor is the time between email communications and consumer interactions.
For example, if a customer leaves your website without purchasing the contents of their basket, you may want to get in touch with a reminder, and let them know that their selection will be waiting for them when they come back.  However, if you do this too soon, not only can it seem pushy, but it also serves very little purpose, as the decision is still fresh in their mind.
In contrast, if you get in touch after a day or two, you may just refresh their memory, and cause them to consider the purchase one more time. No one wants to be constantly bombarded by sales emails. However, when they are timed well and offer some form of intrinsic value, they can be extremely impactful.
You shouldn't see an abandoned cart as a lost sale and if you have used an email-friendly store builder to create your website: there are plenty of apps that are available to recover the opportunity for your business, including automated voucher codes and personalized cart abandonment emails. See it as the beginning of a burgeoning relationship, not a missed opportunity. MoonMail Recover Checkouts is one of the many great checkout recovery tools you can add to your business — but do your research and decide which one is going to work best for your online store.
Once you have all of that under control, it's time to refine your strategy. As you know, nothing in marketing is static, so even if your sales emails are spot on at the moment, that doesn't mean you can just sit back and wait for the sales to roll in.
As a proactive marketer, you need to keep a constant eye on your conversion rates, marketing ROI, and shifting trends among your target demographics. Split-test everything, and aim to continuously optimize your approach, so your customers can benefit from on point marketing that changes and evolves with their needs.

This article is authored by Victoria Greene who is a branding consultant and freelance writer. On her blog, VictoriaEcommerce, she looks at what's going on in the worlds of marketing, content writing, and social media.
She is passionate about helping other writers develop their skills.   
Brought to you by: