NEWSFLASH
Whether you agree or not, you ALREADY have a personal brand.
You don't have to take my word for it. Let's 'hear' it from one of the richest man of our planet.
Your brand is what people say about you when you're not in the room.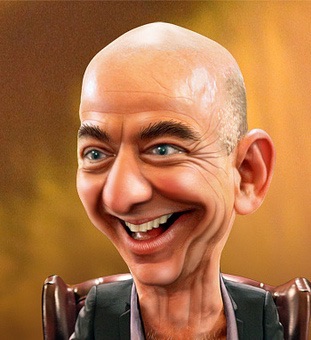 Jeff BezosFounder of Amazon.com
Personal branding helps you tell your story in the most effective manner, so that you can attract all the right people (partners, employees, customers, investors) and opportunities (a new job, a new project, a speaking gig).
Most important, it gives you the opportunity to win the trust of those whom you want to work within any capacity.
What is Personal Branding?
Personal branding is simply showing potential clients, employers and the world at large who you are and what are the values that you stand for.
It's a marketing strategy focused on showcasing to the world what you stand for.
PersONAL BRANDING is
self-packaging

in a manner that the qualities you have and the values you offer are easily recognizable and believable.

Developing a successful brand involves figuring out your skills, values, personality, passion, your audience, and your unique niche, and then communicating them to your target audience in a manner that they are correctly understood.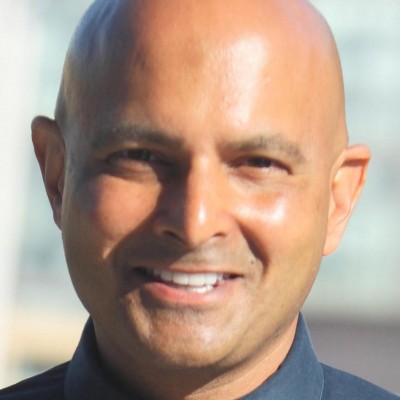 Rob AsgharManagement Consultant & Forbes Columnist
Embrace your story. And make sure you're the primary force in telling that story to the rest of the world.
Most often, well-known and well-defined company brands are closely tied to the people behind them and their personal brands.
Examples of Successful Personal Brands
For example, when we talk of Microsoft we think of Bill Gates.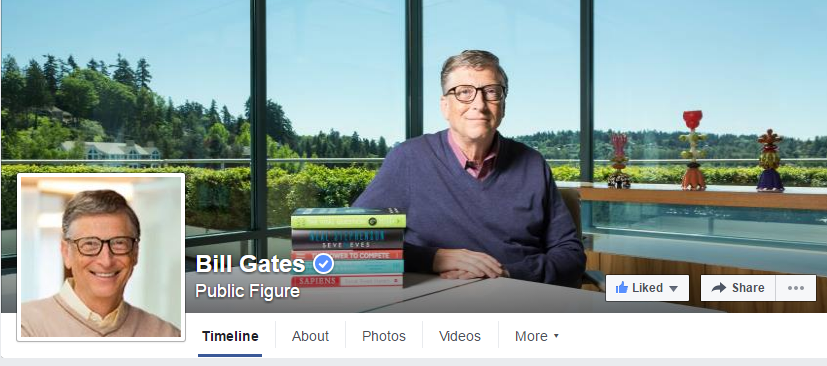 Bill Gates' Facebook Profile
And whenever the Virgin Group is mentioned, we immediately think of Richard Branson who has the distinction of building 8 Billon Dollar Companies in 8 different industries.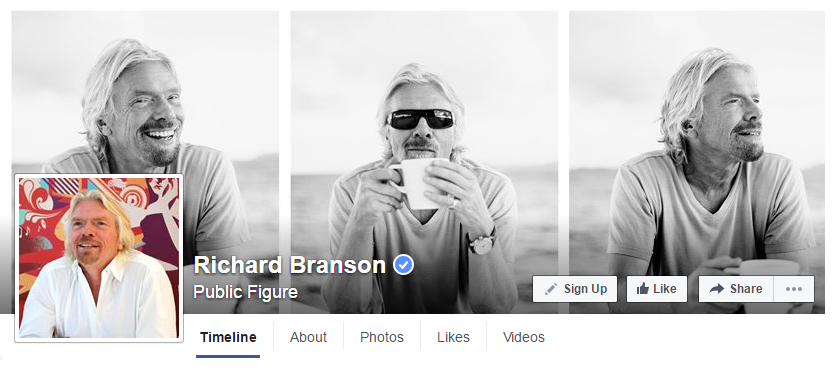 Richard Branson's Facebook Profile
The same goes for Apple, which is associated with Steve Jobs. His personal brand was the driving force behind getting people super-excited about whatever new product Apple was launching.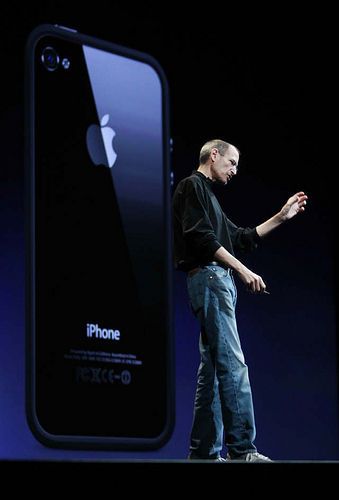 Steve Jobs unveils the iPhone 4 [June 7, 2010 | San Francisco]
Steve Jobs did such a great job that there were queues of people in front of Apple's stores whenever a new iPad, iPhone, or MacBook was being released.
Similarly, Tesla, as Referral Candy mentions, is notable for having a "$0 marketing budget", and it is seen as an extension of Elon Musk's personal brand as a visionary, a genius and, a great entrepreneur.
He does a lot of interviews, and is quite active on Twitter which makes him the is the driving force behind creating a huge fan base which is crazy about the 'car of the future.'
This type of marketing, as Referral Candy mentions, is earned rather than bought, and Elon's personal brand is of significant importance in earning all this attention. Another thing that works for him is that he has done well by differentiating himself from all other entrepreneurs.
Plus, Elon Musk is pretty effective at garnering publicity for his companies via Twitter.
EXAMPLE # 1
Joe Rogan interviewed Elon Musk on his show. The Youtube video of this 2 hours and 37 minutes interview was published on 6th Sep 2018, and as of 25th September, it has already attained more than 14 million views on Youtube.
[tcb-script async="" src="https://platform.twitter.com/widgets.js" charset="utf-8″][/tcb-script]
EXAMPLE # 2
And here is Elon Musk tweeting while stuck in a traffic jam (and in the process) coming up with the Hyperloop-based idea for fixing traffic conjestion: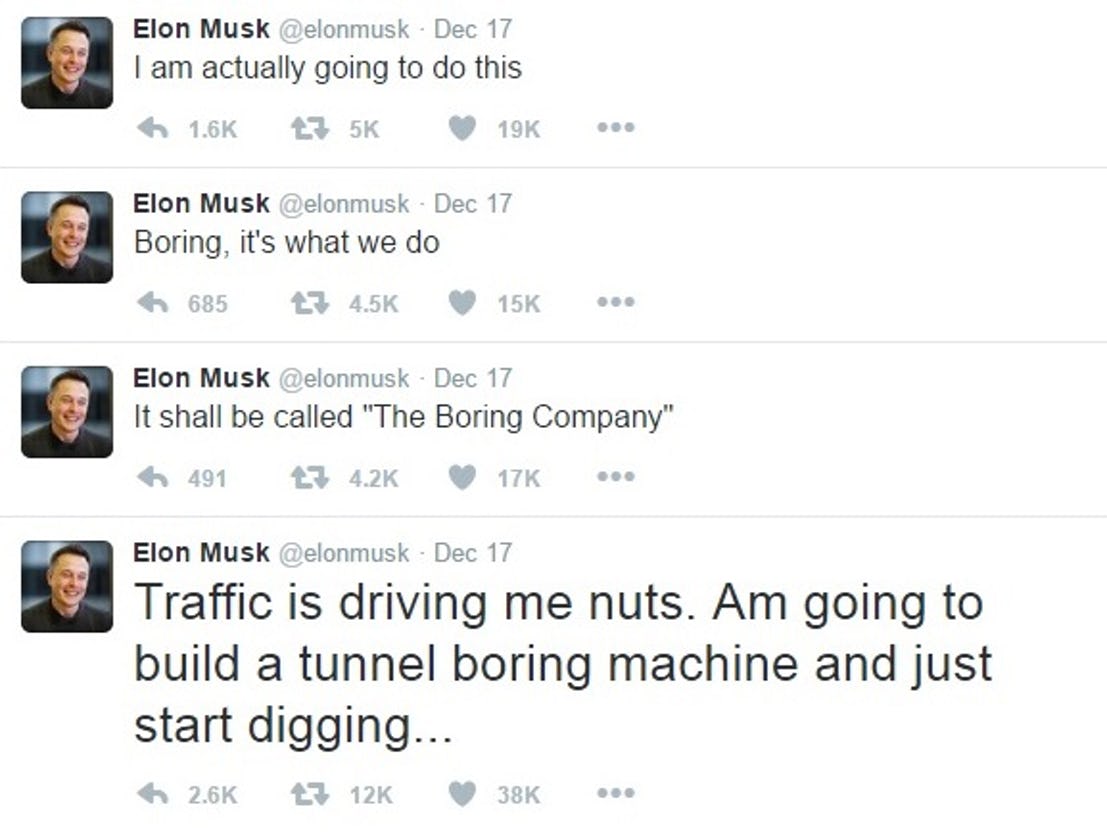 via Twitter
In today's era, where people and businesses have so many more options, it is vital to have a personal brand so that you can stand out from the crowd and boost your business or career.
Personal branding requires you to build a unique signature image, voice, and standard that your fan base and customers can identify you with.
Now let's go ahead and review some of the latest data and findings on the importance of personal branding.
Top 10 Personal Branding Facts & Statistics
1. The need for personal branding has become even more pronounced than ever because as per research, audiences trust people more than corporations.
2. You should also encourage your employees to have a personal brand because leads generated via employee social marketing initiatives convert at least seven times more frequently than other leads.
4. Personal branding drives sales results with makers starting their buying process with a referral.
5. 36% of buyers don't contact sales representatives until they have put together a shortlist of preferred vendors. It would be safe to deduce that the vendors who were shortlisted had a better personal brand which helped the buyers know what they stand for and what they bring to the table.
7. 53% of decision-makers have removed a vendor from consideration based on what they did or did not find about an employee online. – Kredible
8. With the advent of social selling, sales professionals can, rather than cold calling their prospects incessantly, use social media to educate them and get them ready for making the desired purchase.
78.6% of sales professionals who used social media as part of their sales techniques outperformed those sales professionals who were not using social media. – A Sales Guy Consulting
9. An employee advocacy program of 1,000 active participants can, on average, generate $1,900,000 in advertising value. – Kredible
10. Only 33% of buyers trust the brand while 90% of customers trust product or service recommendations from people they know. – Nielsen
THE ABOVE STATISTICS MAKE IT CLEAR THAT…
Personal branding allows you to express your individuality, identity, and reputation while maintaining a personal level of trust and communication with your clients.
Now that we are convinced how instrumental personal branding can become in attain success in a professional capacity, let's go into the details of how one can actually find, build, and grow it.
How to Build a Personal Brand
You can build a personal brand by following the steps outlined below:
1. Find Your SNN (Specific Narrow Niche)
Since there is stiff competition in almost every domain, only specializing in general areas such as "Marketing" and "Business" won't be enough.
You should instead focus on developing expertise in a very specific and narrow niche, and also one that is not so common.
FOR INSTANCE:
If you are a fitness coach, you may specialize in helping busy parents get fit despite their hectic schedules.
If you are a digital marketer, you may choose to specialize in helping non-profit organizations get the exposure, funding and volunteers that they need.
If you are a business coach, you may specialize in either helping executives of Fortune 500 companies, or you may want to work with such social startups which have raised series B funding.
In our case, our company Digital Marketing ROI specializes in generating 6-7 figure revenue for startups only through SEO, Content Marketing, and Digital PR. Despite being offered projects in other domains, this is what we are focused on.
When you focus on a niche and provide your readers with valid information about it, you will have more opportunities flowing in, and you will also be regarded as an authority figure in that field. So, the more specialized you are in a particular area, the more volume of trade you will attract.
2. Leverage Content to Build Authority
Once you have figured out your area of expertise, start building a reputation around it.
Through content creation and marketing, you can build a solid brand and reputation online so as to drive targeted quality organic traffic to your website.
BY PROVIDING VALUABLE INFORMATIONAL TO YOUR AUDIENCE WILL HELP YOU BE RECOGNIZED AS THE GO-TO….
EXPERT
THOUGHT-LEADER
AUTHORITY
INFLUENCER
OF YOUR INDUSTRY.
The best way through which you can become an authority figure is by creating a blog and publishing valuable information on it daily.
In this regard, you may want to use tools like BuzzSumo and Ahrefs content explorer to find topics that are already popular so that you can write on the same from a different perspective.
RELATED RESOURCE: How to Write Your First Blogpost
Here is an 11-minute video produced by Duct Tape Marketing on how to use BuzzSumo for content marketing:
You can also choose to create different content type on the same topic. For instance, if these tools show you an article on 'Top 10 things mentally strong entrepreneurs do differently ', why not create a video on the same topic or an infographic or both?
In this regard, you can also do proper keyword research so that the words you choose to represent your personal brand are not only relevant but also have:
MEDIUM-TO-MASSIVE LEVEL KEYWORD SEARCH VOLUME
LOW-TO-MEDIUM LEVEL SEO COMPETITION
In this regard, check our article on doing keyword research with Long Tail Pro.
You should surely be writing for your own blog, but you should also consider guest blogging to further increase your brand value.
HOW TO DO GUEST POSTING
I wrote a case study and did a webinar for SEMRUSH on how we helped a client get to increase their revenue from $160,000/month to $200,000/month with guest posting alone.
Check it out here:
And this was done in only 6 months with minmal resources.
Here is an idea for your blog:
You too should work on creating case studies that show how you achieved excellent results for a client. You can work with your present and past clients to come up with a convincing and solid narrative to present before an audience.
The reason why case studies are more appealing to people is because they are true and have a recipe for success.
ADDITIONAL RESOURCE:

You can sharpen your writing skills using our 100 plus writing tips guide.
If you are wondering what type of content to create, here is a HubSpot research which should give you some ideas.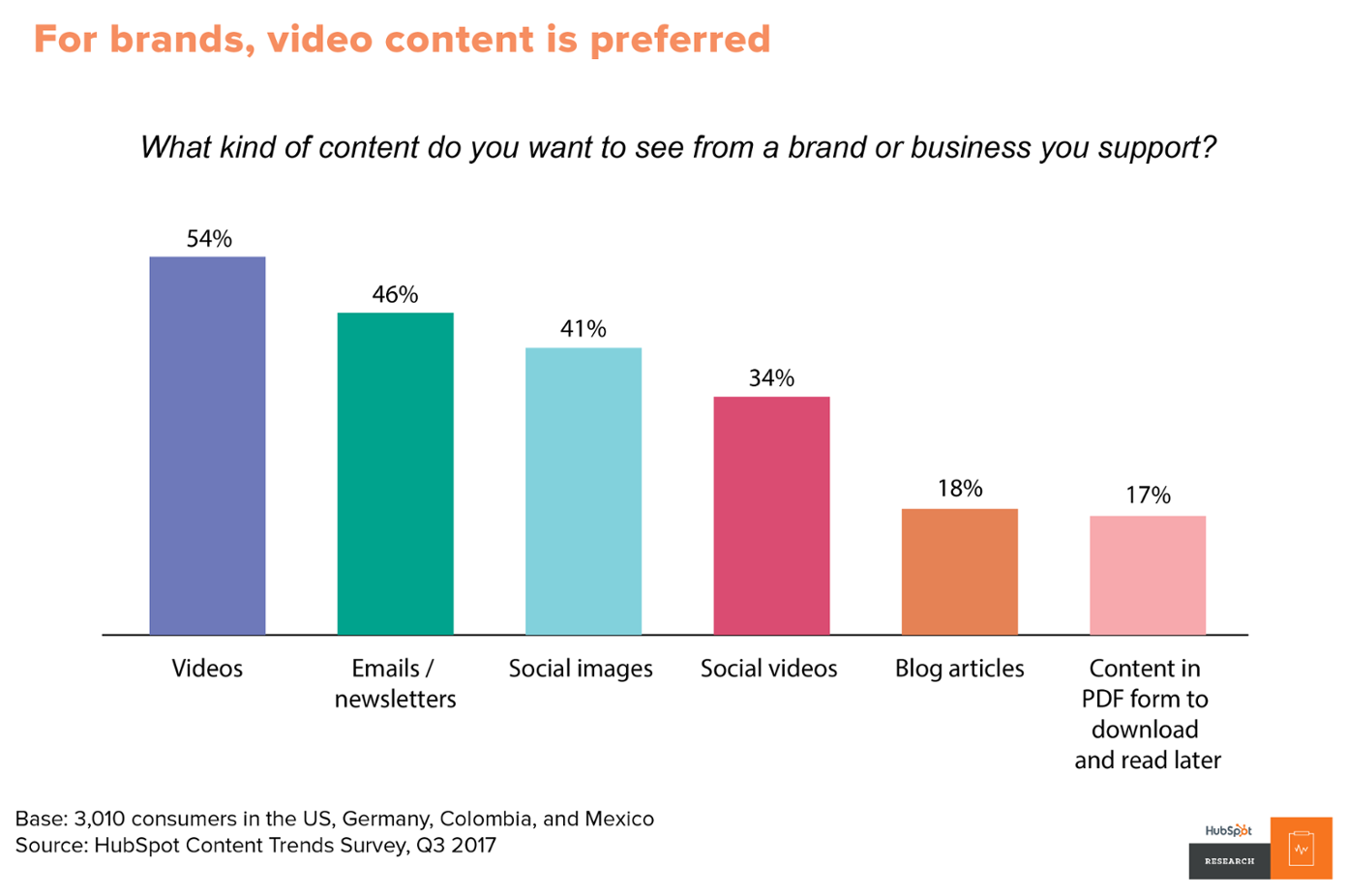 3. Spruce Up Your Social Media Profiles
Apart from using content to push brand awareness, you should also be sprucing up your social media presence so as to leverage social selling and more.
Make sure that your Facebook, Twitter, and LinkedIn profiles are IN SYNC with your personal brand standards. Preferably use similar pictures on all these platforms.
Also, use professional cover photos which show the logos of any large organizations you have worked for so that your personal brand can leverage the brand value that these large organizations have.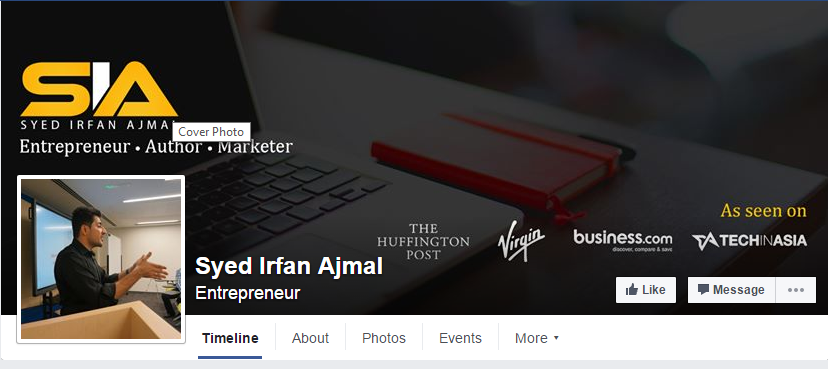 My Facebook Profile
As an example check out one of my Facebook page cover photos above.
Also, ensure that you post daily content on your social media profiles (at least once per day for Facebook and LinkedIn platforms and several times for Twitter).
RELATED RESOURCE
How to Brand Yourself on LinkedIn
PlaceIt – Use pre-made templates to get logos, videos, and more!
No one likes the person who is posting only to promote their own self and their own brand. Make sure that the stuff you are posting consists of:
80% Informational Posts
10% Semi-Promotional Posts
10% Fully Promotional Posts
The interesting thing about this approach is that you are doing more to promote your personal brand by not promoting it too much, as sharing informational posts make a person see you as someone who is an authority and someone who can be trusted.
Additionally, you can also re-purpose your existing blog content and share it with your social media followers.
For instance, how about finding 5-10 quotes, statements, quotations, etc. in one of your articles and converting them into social media banners.
This can be ever-green content for the most part, and visual content (maps, infographics, video, pictures, and illustrations) results in much more attention, conversions and reach.
4. Speak at Relevant Industry Events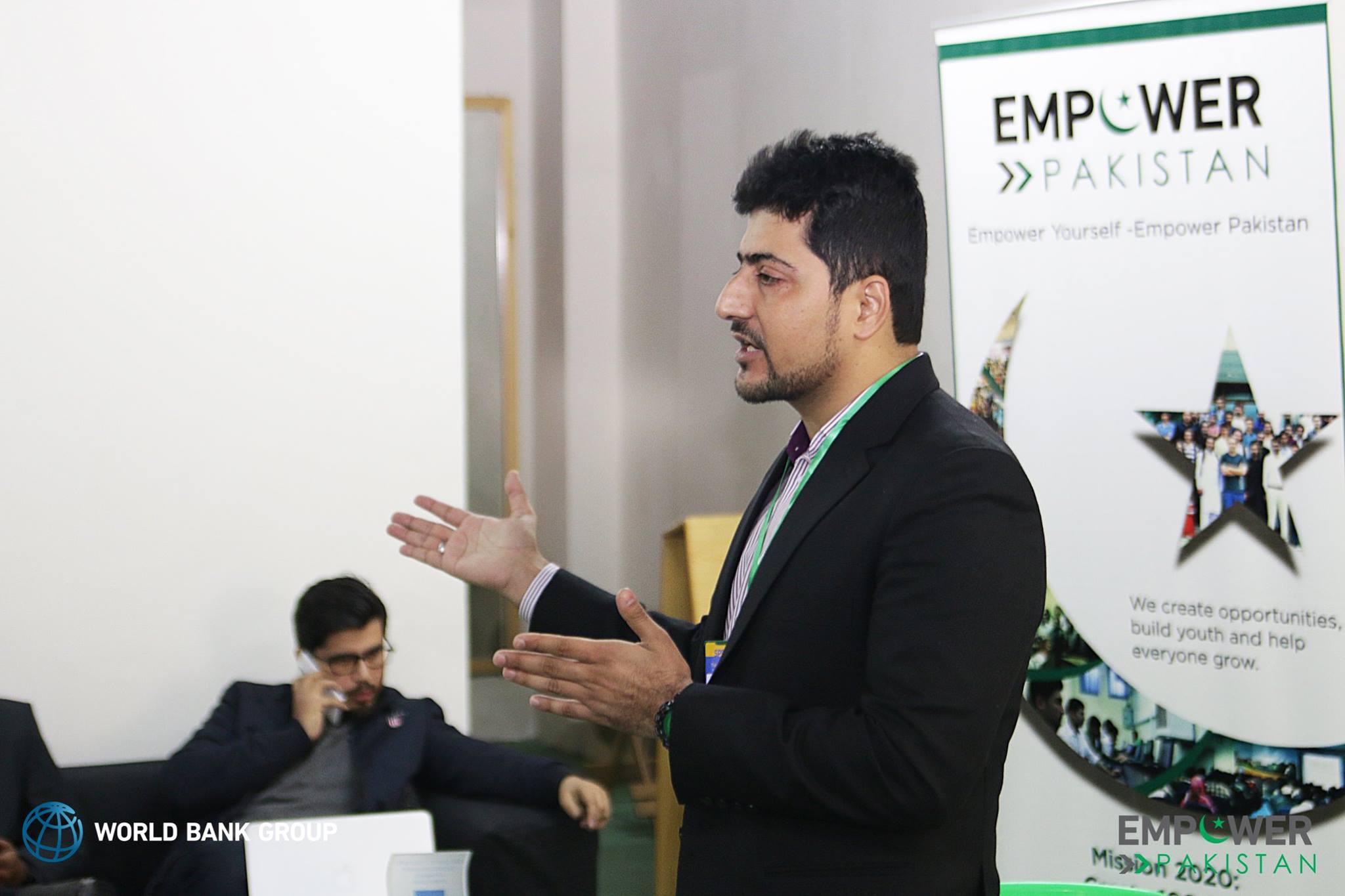 Furthermore, you should look for speaking events whenever possible because it will propel you into the limelight and thus enable you to demonstrate your expertise more effectively.
For example, I was recently a guest speaker at a growth hacking workshop hosted by my friend Irfan Khairi at AstroLabs, Dubai. I spoke there to a group of entrepreneurs and this event ended up creating a host of new opportunities for my brand and myself.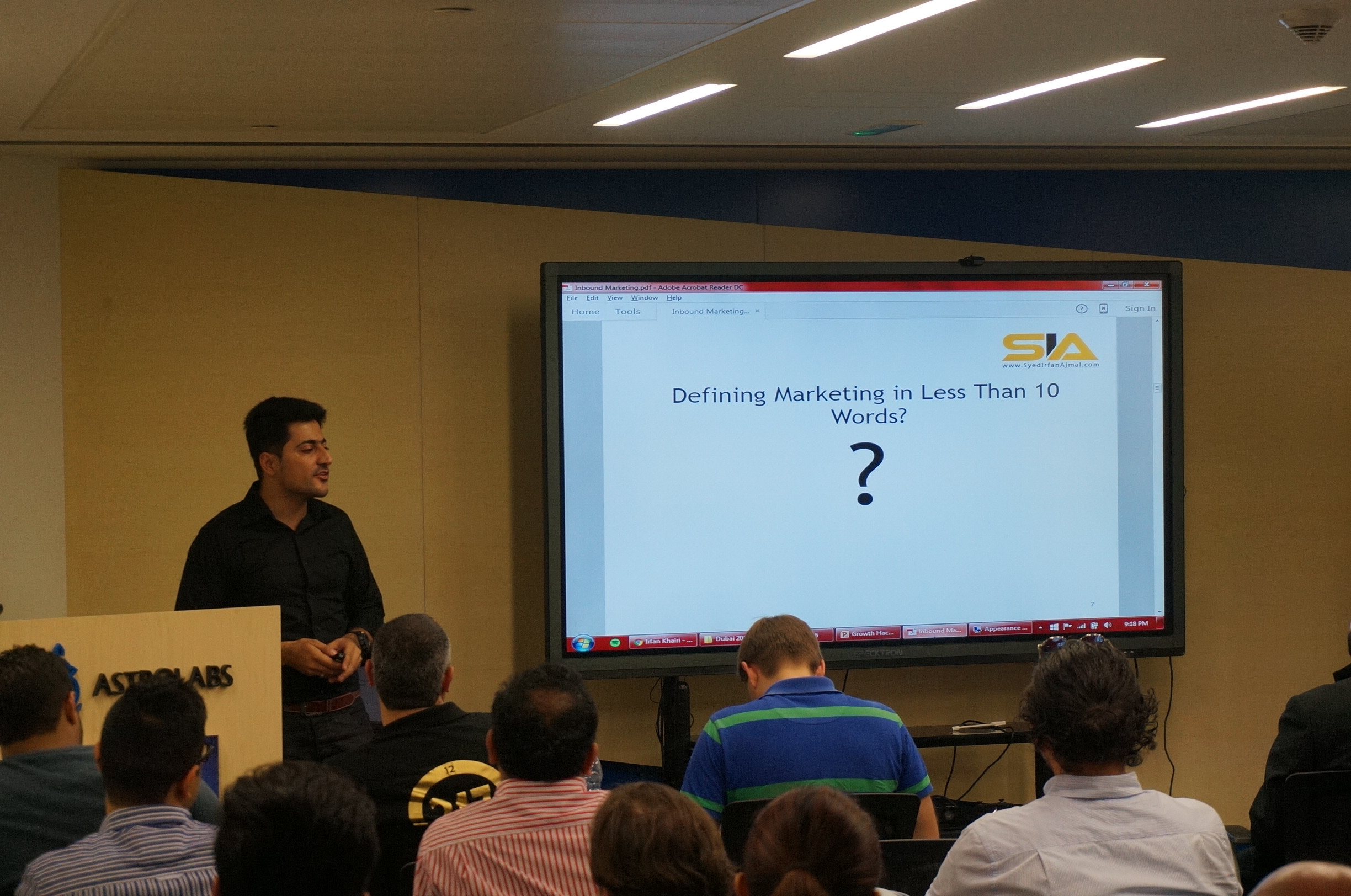 Astrolabs, Dubai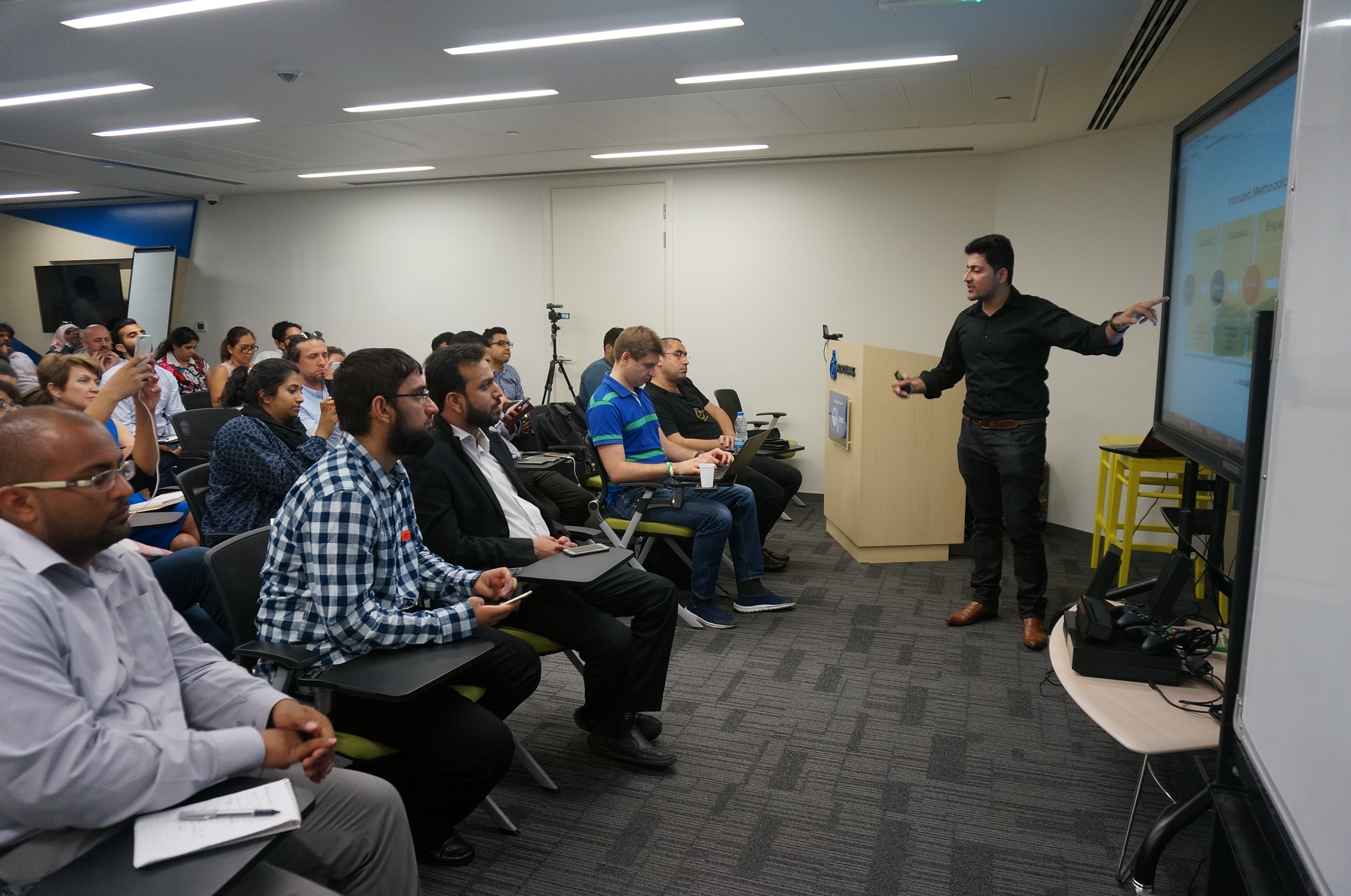 Astrolabs, Dubai
I got two offers from startups who requested me to do marketing for them in return for equity; I got invited by Google Business Group, Peshawar, to do a growth hacking session for their audience; I also noticed some increase in my website traffic, and I was also asked to be interviewed by an organization which specializes in public speaking, not to mention the lots of new connections I made and even a few leads I generated while being there.
All these benefits were the result of only a single speaking event, so imagine the leads you can procure by speaking at several events at a time.
IF YOU HAVEN'T SPOKEN BEFORE, THE EASIEST WAY TO GET YOUR FIRST GIG…
…to contact your university or college and pitch them a topic. Show them how you made it big and that you want to teach their current students how they can do it too.
You can also reach out to local chambers of commerce, clubs organized by industry leaders like Microsoft and Google (e.g. Google Business Group) etc. to speak there.
Another interesting place to speak at, especially if you are starting out, is to meet and pitch a topic to the management of local and foreign co-working spaces, business incubators and business accelerators. You can also build relations (more on this in next section) with key influencers who work at large corporate organizations and pitch to conduct trainings or seminars for their employees on a topic that you have mastered.
In order to book speaking gigs, these resources would help:
Oh, and last but not least, if you are travelling abroad to speak, it's a great way to get some clarity on your personal brand, your target audience, your likes and dislikes.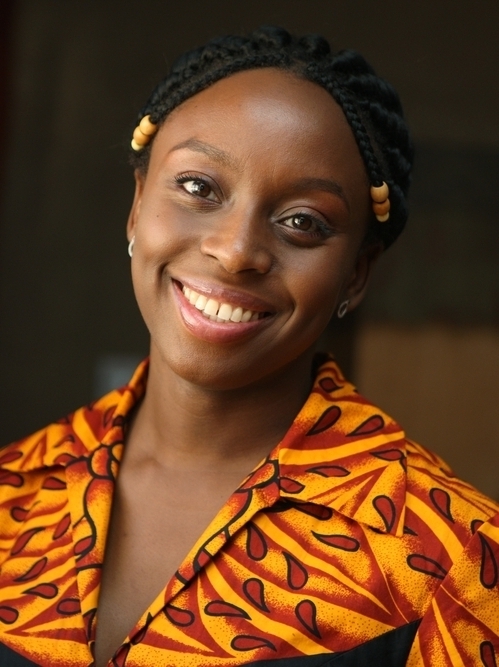 Chimamanda Ngozi Adichie Nigerian Author
I think you travel to search and you come back home to find yourself there.
Leaving one's comfort zone to travel abroad forces one to go on 'digital diet' since you won't have a lot of chances to stay glued your laptop or your smartphone. That's when inspiration takes place.
5. Network As Much As You Can
The power of networking can't be over-emphasized. Networking matters both online via social media and email, and in the real world.
If you want to grow your personal brand, you have to engage with key influencers, like-minded people, other experts of your niche, and the target audience whose problems you are trying to understand and solve.
Networking with such people will help you land bigger opportunities in terms of winning projects, speaking/training gigs, book deals and more.
I am not a huge fan of attending startup events as I don't think they provide a lot of value. Instead I attend industry events. If you have a food app, go and attend an event of the food industry. If you have a logistics app, why not attend an FMCG (fast moving consumer goods) event?
Meet authority figures while at these events and also engage in community discussions.
The more people you meet, the more opportunities you'll get and the better impact it will have on your personal brand. But don't try to meet only for the purpose of a handshake and exchanging business cards. It is better to meet a bit fewer people and make a lasting impression than to have a lot of business cards but no real spark.
My Golden Rule of Networking is simple: Don't keep score.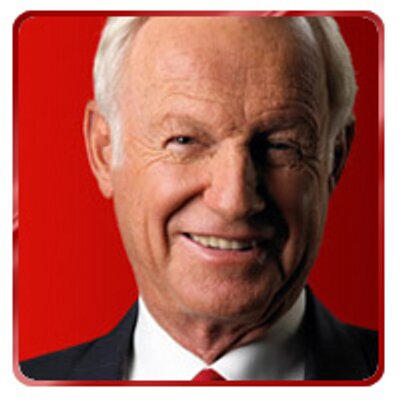 Harvey Mackey Business Author & Speaker
I met my (former) business partner Azzam Sheikh online around the start of 2014, and then in May 2015, we decided to merge our digital marketing agencies and create Digital Marketing ROI.
In Dubai, while speaking at AstroLabs, I shared (while being a bit surprised myself) that I have yet to meet Azzam in person since he is based in the UK and I live in Pakistan.
But still the power of our brands brought us together, and our brands also created the kind of trust that is necessary for strengthening a mutually beneficial relationship. This would not have been possible if I had not worked on building a strong brand.
6. Associate With Stronger Brands
Your personal brand will be boosted and your influence will grow bigger only if you associate with other bigger brands.
You can start small by associating with your company, colleagues and college mates and join any relevant groups which you think will boost your brand in one way or another.
You may even consider utilizing your company's digital assets for example by contributing a guest post to your company's blog.
7. Share Only Purposeful Stuff
You should be aware that every piece of information that you share on social media has an impact on your personal brand.
Moreover, you should be consistent in updating your social media accounts since it's a combination of small actions taken on a daily basis which cumulates to give your personal brand power.
8. Appear on Podcasts, TV Shows and Radio Shows
Podcasts, TV shows, and radio shows are some of the best personal branding tools and platforms available. Whether it's your own podcast, TV or radio show, or that of someone else on which you appear as a guest, it'll give a huge boost to your personal brand.
Entrepreneurs can take advantage of these mediums to establish themselves as experts and thought leaders in a particular field.
For example, I added Chuck Wang of the MVP marketing podcast on Facebook. As soon as I add someone, I also send a highly personalized, relevant and warm introduction in which I:
Mention something particular about them (like I may ask a specific question about one of their recent episode or something, or share how their recent article resonated with me).

Mention myself briefly (while ensuring that I mention the big names for sure such as: "I am an award-winning serial entrepreneur, a Huff Post columnist, a HubSpot certified inbound marketer).

I try to end with a question as I think that makes the other person more inclined towards replying to me. I may end with, '

I would love to know more about you. Especially, what motivates you to record a podcast episode every single day/week?"

Or "

How do you figure out the topics of your articles considering that almost all your articles get 1000+ shares?

"
So long story short, I sent such a message to Chuck and forgot about it. He surely is a busy man and I guess I should have tried to follow up but in any case, he responded back after a good few weeks and asked if I would like to be on his show. I gladly accepted the invite.
HOW I GOT PUBLISHED ON HUFFINGTON POST [VIDEO]
Here is a short Video snippet from the Chuck Wang podcast in which I share how I got published in Huff Post.
Now recently when I was finally asked by a TEDx curator to speak at their TEDx event, Chuck asked me to come on the show again and share how I got the TEDx gig. He has an audience and by having built a relationship with him, which was partly possible due to my personal brand, we are able to help each other out. He gets to share with his audience useful content and I get some new audience members.
9. Smart Outreach
Social media and podcasts are not the only way to improve your personal brand awareness. You can also find influencers in your niche and reach out to them via email. Yes, emails are still a widespread means of communication, especially in the professional world. If you've found a necessary person somewhere on the web, either in the web blog or on the social professional network or simply on Google, you can use an email finder tool to search for their email addresses in a matter of seconds.
Such tools are useful when you do not want (or simply cannot) to write to a definite person or people on a website or on a social network. If you are using a browser extension, you will  find emails on any website to reach out to people. Some even offer a web application to perform an advanced search.
So as you can see whatever activity we do for strengthening our personal brand has a snowball effect.
Some More Notable Personal Brands
We all know that the famous people Guy Kawasaki, Seth Godin and Gary Vaynerchuk are a few individuals with terrific personal brands, but we are not mentioning them because they are obvious.
However, we have listed a few other notable personalities who have made a name for themselves via personal branding.

Lewis Howes is a prime example of an individual with successful personal branding and is an inspiration to many.
Lewis began by hosting LinkedIn events in several cities around the United States and very soon became a LinkedIn expert.
However, his brand evolved over several years, and now he is better known as a lifestyle entrepreneur who is "living the dream."
Lewis's personal brand has also been significantly boosted by his podcast, The School of Greatness. He is mainly passionate about helping people start their own businesses and achieve greatness.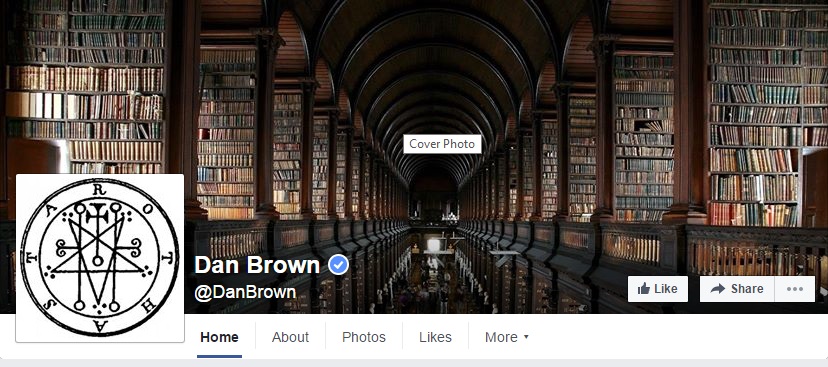 Dan Brown is the author of several bestselling novels like The Da Vinci Code, which is to date one of the bestselling novels of all time. He was also named by TIME Magazine as one of the 100 most influential people in the world.
According to Wikipedia, "Brown's novels are treasure hunts set in a 24-hour period, and feature the recurring themes of cryptography, keys, symbols, codes, and conspiracy theories.
Brown pulls crowds whenever he speaks at events. For example, he spoke at the Web Summit in Dublin in 2015, which was attended by over 40,000 people.

Tim Ferriss is a startup angel investor (in Twitter, among other startups) as well as the author of the bestselling book "The 4-Hour Workweek: Escape 9-5, Live Anywhere, and Join the New Rich" which has been translated in 35 languages, sold 1.35 million copies worldwide, and topped the charts of the New York Times, BusinessWeek, and the Wall Street Journal bestseller lists.
Tim believes that marketing should begin with oneself since you know your product best from the inside out. But what my favorite quote of his on personal branding is: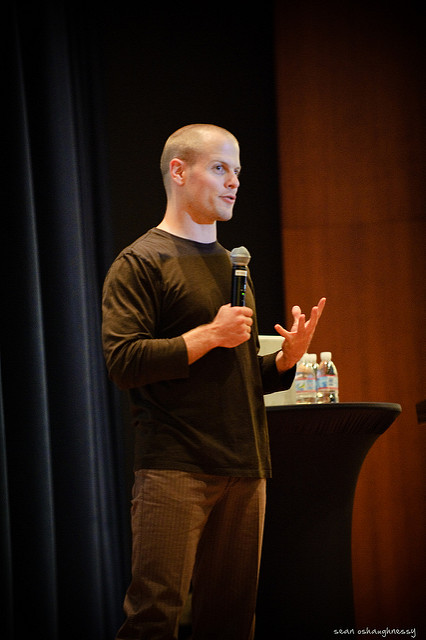 Tim FerrissEntrepreneur, Author
Personal branding is about managing your name – even if you don't own a business – in a world of misinformation, disinformation, and semi-permanent Google records.
Going on a date? Chances are that your "blind" date has Googled your name. Going to a job interview? Ditto.
It is interesting to note that when he saw his publishing company was not promoting The 4-Hour Workweek as well or as much as he wanted, he set it on himself to promote it by reaching out to bloggers and by establishing himself as authority in the area of Lifestyle Design, which is a combination of marketing, entrepreneurship, and creativity to make life simpler and better.
He went on to strengthen his personal brand so much that at the time he was ready to market his book, The 4-Hour Workweek, he already had a large group of people willing to buy it.
Imagine being on top of the business charts for THREE YEARS after the book was initially rejected by 26 out of 27 publishers. That's Tim Ferriss for you.
Now he sure hustled hard, but I think that hustle, that energy which made his first book such a MASSIVE success after getting rejected by so many publishers is also a testament to the power of his personal brand.
Later on, he went ahead and used the power of his personal brand to market his several other books which have become highly successful such as:
He also runs the massively popular The Tim Ferriss podcast show which has been, get this, downloaded 300 Million+ times.
ADDITIONAL RESOURCE: TIM's ARTICLE

Chris has done a wonderful job in promoting himself and his brand on different platforms online which can be manifested from his awesome website, social media profiles, and business cards.
One of the main reasons why Chris has a successful personal brand is due to his consistency, as everything he does is consistent with his brand message.
If you're unaware of all the amazing stuff that Chris Ducker does, then listen to his podcast, 'The New Business Podcast'.

Marie's strong personal brand has attracted over 100,000 followers and fans worldwide.
The award-winning web show Marie TV is 100% true to her vision. Her website also nails everything related to her personal brand and vision.
You may follow Marie on Twitter to learn more about her brand.

Even though I am pretty new on the personal branding bandwagon, I am to share what I have done for building a strong brand and how it has helped me over the years.
By writing for Huff Post, Business.com, SEMrush and other big publications, I was able to associate my personal brand with these large brands. The same thing happened when I spoke in Dubai, and at Google Business Groups sessions and more.
These activities also helped me leverage the power of branding.
Doing all these activities have built my reputation and credibility in a manner that I have been able to attract opportunities.
When I say attract, I mean getting offers, deals, speaking gigs and much more right in my inbox without having to spend almost anything on outbound marketing activities like paid advertising.
Among other things, building and strengthening my personal brand has helped me win great friends, partners, colleagues etc. who are accomplished, talented, ambitious and who are supportive of each other's dreams.
It should be noted that whatever activity I start,
I don't think about the money

much.
Especially in the start, it is hardly my concern (and the fact that I have

o

ther
revenue

streams

means I can invest in a new medium, tactic, and strategy with ease).

For instance, I spoke for about 2.5 years before I got my first invite to an all-expense paid trip to speak in Malaysia.

Similarly, I am not paid by Huff Post, Business.com and most of the other publications that I write for. But writing for them helped us win several projects, and I now also get paid by Aurora (Pakistan's largest marketing magazine), and Forbes ME.

Additionally, for a very long time, I helped people via social media, and built strong relations.
If the first time someone asked me a question had resulted in me asking for a paycheck, I would have few clients and no friends.
Syed Irfan AjmalThis Scribe
The aim should be to help others. If you are doing that, money will find its way to you sooner or later. Whenever you are starting a new activity to support your brand, whether it is social media marketing, writing (at your own blog or large sites), speaking or more, the goal should be to strengthen your brand, and so asking how it will impact your ROI, should not be your first question.
Instead, enjoy the experience, build your profile and brand to the extent that when someone talks about your niche, the listeners immediately think of you and your brand.
This is how you make yourself an expert, an authority, and even a thought-leader and influencer.
Of course, you also have to build actual expertise, as otherwise your brand will be seen as a farce.
But if you have the expertise as well as a great personal brand, you can then expect to be highly rewarded for it in more ways than you can imagine.